As we continue to monitor the evolving coronavirus pandemic throughout the United States and the communities we serve, Civista Bank remains focused on the safety of our employees and customers while continuing to provide for our customers' financial needs.
Branch Service Information
All branches are open during select hours. Find your local branch's modified lobby hours on our locations page.
The following protocols have been implemented to protect the health and safety of our employees and customers. Thank you for following these protocols when visiting our branches. Together, we are doing our part to help prevent the spread of COVID-19.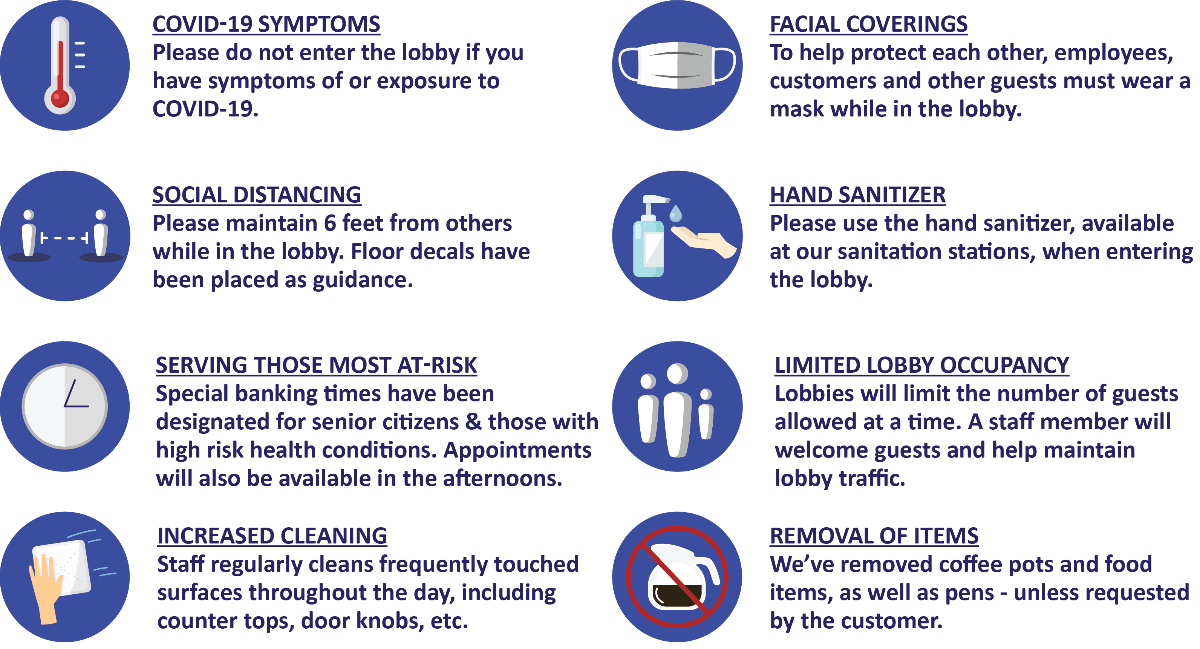 Temporary Branch Hours for Reopening

 Lobby Hours
Monday - Friday:
First half hour of lobby opening designated for seniors & high risk customers
Followed by walk-in services for all customers until early afternoon
Afternoons by appointment only
Saturday:
 Drive-Thru Service Available Regular Hours
Look to this page for updates and resources or follow us on Facebook @CivistaBank.
We are here for you.
In times of financial challenge
At Civista, we are dedicated to the relationships we have with our customers and work hard in good times and challenging times to support our customers and the communities we call home.
If you are experiencing financial hardship as a result of the coronavirus, we encourage you to contact us.  For existing personal and mortgage loans call 800.604.9367. For new loans or deposit account questions, please call your branch personal banker.  Businesses should contact your business relationship manager directly.  
You may be eligible for special assistance including payment deferrals, late fee relief, or waived penalties for early Certificate of Deposit (CD) withdrawals. 
Assistance Programs
The following programs are available to customers who are facing a financial hardship as a result of COVID-19:
Consumer and Mortgage Payment Deferral Program:  We offer a payment deferral for up to 90 days.  Please contact us at 800.604.9367.
Commercial Loan Payment Deferral Program:  We offer a payment deferral for up to 90 days. Contact your business relationship manager directly.
SBA - Small Business Economic Injury Disaster:  The SBA has announced Indiana, Kentucky and Ohio have been declared a disaster state, therefore making businesses and non-profits eligible to apply to the SBA for Economic Injury Disaster Loan assistance.  Payment deferral and payment assistance programs are available based on SBA rules if you have an existing SBA loan.  To apply or learn more, visit their website.

SBA - Paycheck Protection Program: As a SBA preferred lender, Civista Bank is here to help interested businesses take advantage of the Paycheck Protection Program

(Opens in a new Window)

. Due to the high volume of loans we have in-process and those we've already closed, we are no longer processing new applications.
Healthy Banking Options
We encourage utilizing our digital and self-service banking tools.

Be Aware of Potential Fraud
Be cautious of text, email, and phone calls regarding the coronavirus. Fraudsters often exploit circumstances like this for personal benefit. For more updates on coronavirus scams, visit the Federal Trade Commission's website.
Here are some tips from the Federal Trade Commission to help you avoid these scams:


Do not click on links from sources you do not know. They could lead to viruses on your computer or device.
Watch for emails claiming to be from the Center for Disease Control (CDC) or experts saying they have information about the virus. For the most up-to-date COVID-19 information, visit the Centers for Disease Control and Prevention and the World Health Organization.
Ignore online offers for vaccinations. There are currently no vaccines, pills, potions, lotions, lozenges or other prescription or over-the-counter products available to treat coronavirus.
Do your research before donating to a charity or crowdfunding site to ensure there is no scamming involved. If someone wants donations by cash, by gift card, or by wiring money, don't do it.
Reliable Sources for COVID-19 Health Information