Welcome Weekend Reminders
At Civista, we've been helping customers achieve their financial goals since 1884.  We're delighted to soon welcome you to Civista and to be a part of southeastern Indiana and the Greater Cincinnati community.  
As we work together toward the automatic transfer of your UCB accounts and services to Civista Bank, look to this web page for information on the conversion, planned for the weekend of September 14th.
Key Dates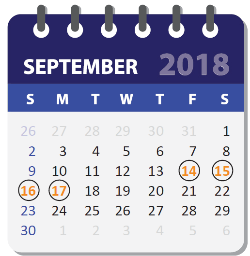 We want your transition to Civista to be a smooth and easy experience.  Here's what you can expect during the coming weeks.
Right now
Continue to bank as you currently do, using your same account numbers, checks, debit and ATM cards, telephone banking, online access, and branches.


Prior to Friday, Sept. 14
Access to UCB Bill Pay will end at 9am on Monday, September 10.  Pre-scheduled payments will continue to be made through September 14 from the UCB service. See FAQs for more details on the transfer of payees and payments to Civista Bill Pay Plus.
If you're enrolled in UCB Bill Pay, it is recommended that you maintain a record of your existing payees, including addresses, in order to validate that all information converts as planned.
We also recommend that Business ACH customers save ACH Batch files (with NACHA format).

Friday, Sept. 14
All UCB banking centers will close at their normal time.
ATMs will be available as usual Friday and throughout the weekend.
Continue to use your UCB debit or ATM card to make transactions.
UCB online banking and automated telephone banking will be available for transaction inquiries only beginning 6 pm on Friday.

Saturday, SEpt.15 and Sunday, Sept. 16
Branch lobby and drive-up facilities will be closed over the weekend.
ATMs will be available using your UCB debit or ATM card.
Continue to use your UCB debit or ATM card over the weekend.

Monday, Sept. 17
Activate and begin using your new chip-enabled Civista Debit Mastercard® or ATM card as of 9 am.
Branches will reopen on Monday morning under the Civista Bank name.

Branch lobby and drive-up service hours will remain the same as they are today.

Access to Civista Online Banking, Bill Pay and Mobile Banking will be available beginning at 7 am.
Civista Automated Telephone banking will be available at 7 am by calling toll-free 877.224.8423.
Mobile and Online Banking Customer Service Specialists will be available during extended hours to provide assistance from 7 am - 7 pm at 844.842.0268, Monday, September 17 through Friday, September 21.
Helpful Resources
To learn more about account and service changes, refer to your welcome package mailed mid-August or refer to the copy below.

Get Started with our Mobile App
After you sign-in to online banking and enroll in mobile banking,
download the Civista app from your app store.
Pay Bills or Pay a Person with Bill Pay Plus
Navigating the Civista Bank Site
Our website is designed to give you a great online experience from whatever device you choose and with a dot (.) bank domain, you get added security.  Learn more about our site, where to find your online banking log-in, contact us form, locations and much more.