Dr. Chelsea Mooreland is a board-certified Family Physician practicing full spectrum primary care in Central Ohio and is known as "The Community Doctor".  Dr. Mooreland received her doctorate from The Ohio State University where she was inducted into the Gold Humanism Honor Society and selected as a National Health Service Corp Scholar.
Dr. Mooreland's passion for s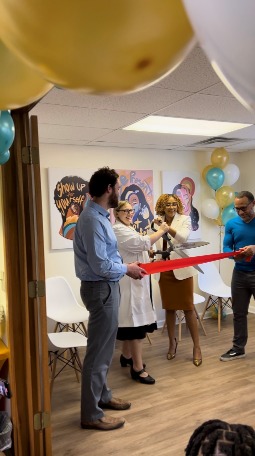 erving her community led her to open a primary care home after gaining vast experience in various areas of women's health, including obstetrics. With a vision to provide exceptional healthcare without the limitations and added paperwork that come with traditional organizations, she established Life Cycle Direct Primary Care in New Albany, Ohio in 2021. Her dedication and commitment to patient care were quickly recognized, leading her to open a second location in Columbus.
Life Cycle Direct Primary Care is a membership based comprehensive primary care home.  For a flat monthly fee, members benefit from care at all of life's ages and stages, allowing Life Cycle to provide patients with deeply personalized and compassionate care without the hassle and limitations of insurance.  Life Cycle Direct Primary Care minimizes out of pocket costs and emphasize preventive and family care as a means to improve health outcomes and reduce health disparities.
Dr. Mooreland was most inspired to become a business owner by the patients she served in Central Ohio. "My patients were largely minority and disenfranchised and encountered many barriers to accessing quality healthcare. After observing these barriers, I was encouraged to create a space that was intentional about those same patients down to the smallest details. I can't say I ever wanted to become a business owner, but I recognized a need and had the desire to meet the need by any means necessary."
She expressed her greatest challenge was awareness and education.  "My greatest challenge as a business owner has been raising awareness and education around the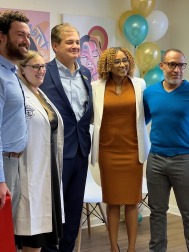 business model because it is a growing model across the country but very new to the Columbus market."  She added, "Columbus is a fun city with many different cultures represented. Working in Columbus requires that we stay up to date on the cultures represented in the community and ensure we can serve everyone in the ways they need."
Dr. Mooreland shared some great tips for those with an entrepreneurial spirit, no matter what business you want to go in to. "Find a bank that you can establish an ongoing relationship with to help with cash flow and planning for growth and expansion. Find business mentors that can help you create the vision and mission for your company as this lays the foundation for every decision you'll make as a business owner. Identify the "why" behind your business, this is what will keep you motivated to continue making progress and moving the business forward when things get difficult or don't go as planned."
Dr. Chelsea Mooreland and staff celebrated their official grand opening of their Life Cycle Direct Primary Care Bethel Road location on February 23, 2023. 

Learn more about Life Cycle Primary Care