Simplify and Save Time
Simplified and Consistent Experience
Across All of Your Devices
Civista's Digital Banking offers an easy to use and consistent experience across all your devices – smartphone, tablet and computer.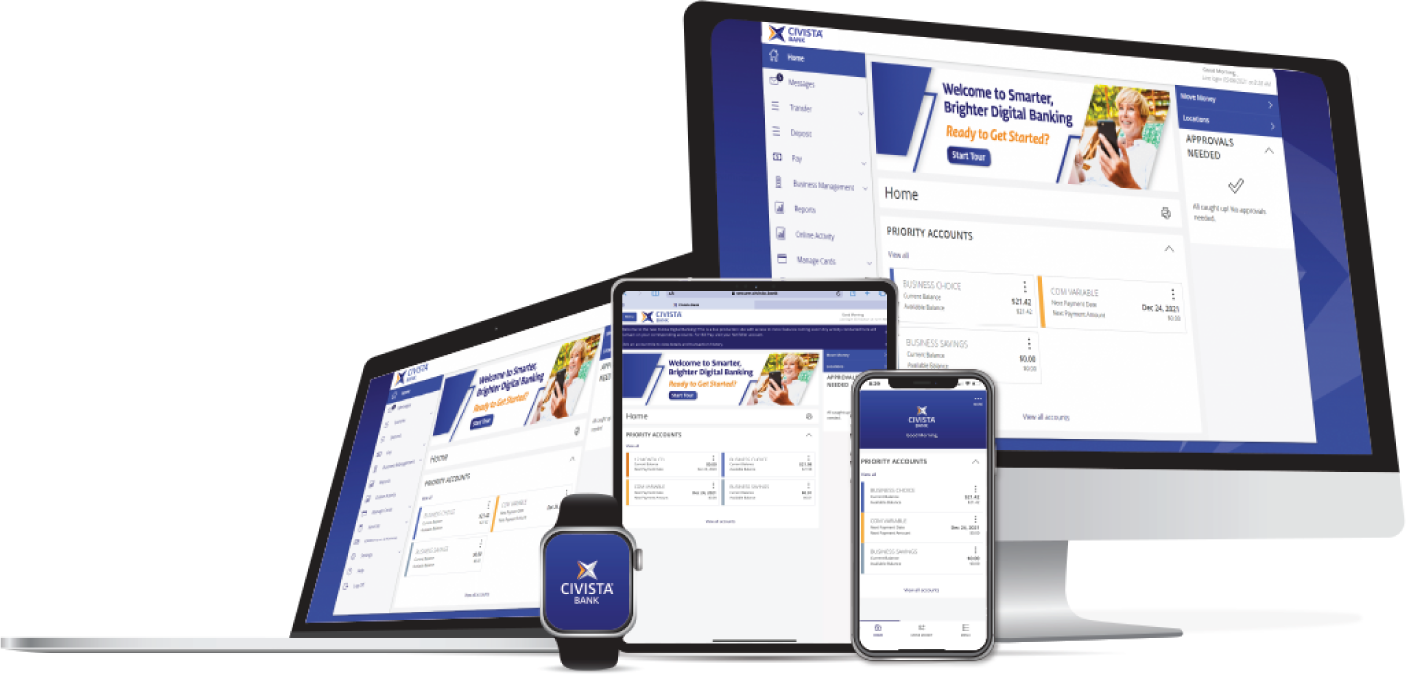 Personalize your experience with drag and drop features to keep what's most important to you front and center.
One Login Does it All
You can manage your money from a single login – even view accounts at other financial institutions.
VIEW, TRANSFER, DEPOSIT AND PAY
View account balances and check images
Monitor and search transactions quickly
Manage multiple business users and assign account access and activity permissions
Move money between your Civista accounts, your external accounts, and to other Civista users
Review, download or print up to 18 months of eStatements
Pay your Civista loan
View your credit card
Pay bills and people with Business Bill Pay
Order Checks
Deposit checks with the CB-Mobile Banking app
MANAGE YOUR ACCOUNTS AT OTHER FINANCIAL INSTITUTIONS
With external account transfers you can add your non-Civista checking and savings accounts to your Digital Banking to make transfers and payments.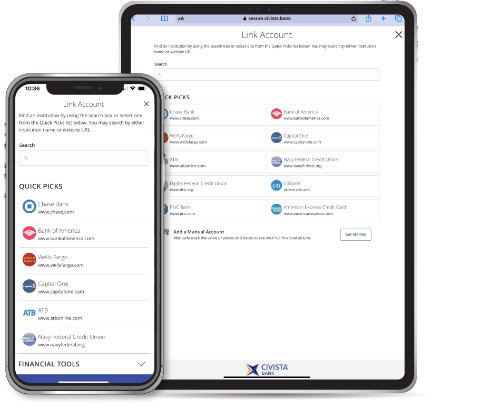 Update Your Preferred Payment Method with CardSwap
Do you shop online or have popular subscription services Amazon? If so, managing all of your accounts just got easier. With CardSwap, you can easily update your preferred payment card on file in one place. Swap out a lost, stolen or expired card with Civista's CardSwap to save yourself the time and hassle of logging into each service.
Safe & Secure Features

Multi-factor Identification
Have peace of mind with multi-factor authentication.  Upon logging in, your secure access code will be delivered to you based on the secure delivery option you choose – phone call or text. This code will only be delivered to the contact information we have on file for your account.
For added convenience, you can choose an option to "register this device" and you won't be prompted for this code again, unless you log in from a different device, or clear your local cache that stores these settings.
ACCOUNT MONITORING ALERTS
Digital Banking offers you the ability to set up customized balance and transaction alerts. Get notified when a check clears or if your account balance dips below a certain amount. You can even set up recurring reminders so you never forget when an annual bill is going to hit your account or to wish a co-worker "Happy Birthday". 
Learn more about setting up account alerts here.
Enroll in Civista FraudEYE to opt-in for debit card fraud alerts by text.
Debit Card Control
Has your debit card been lost or stolen?  Simply disable your card from the Debit Card Control menu.  If you find your misplaced card, you can easily enable it again.  You can also report your card as lost or stolen and order a replacement.  Your local branch may also be able to make you a new one same-day, only available at select locations so please call ahead.
Freeze your card temporarily
Report card lost or stolen
Order New Card
Notify us if you are traveling