Groff Funeral Homes and Crematory has provided the community with the utmost in professional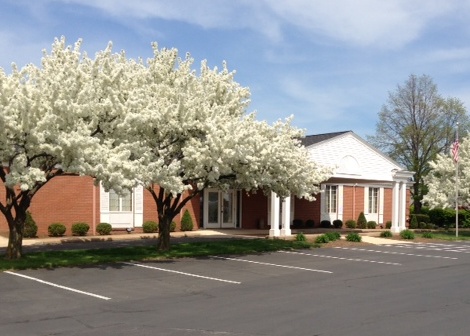 funeral services since its founding over a century ago. The funeral home's current president, Kara C. Groff, shared her family business's storied history and accomplishments as they continued to grow through the years.
In 1939, F. Leo Groff joined the Frey Funeral Home. Located at 604 W. Washington St. in downtown Sandusky, it was an established business in Sandusky since 1902. Leo purchased the business from Fred Frey in 1949. In 1973, Leo's son, Leon J. Groff, joined the firm and the name was changed to Frey-Groff Funeral Home. Father and son expanded the business in 1987 with the addition of the present Groff Funeral Homes location at 1607 E. Perkins Avenue.
Over the years, Leon expanded Groff Funeral Home into the surrounding communities of Milan and Huron, and began offering cremation at their own facility in 1992. Meadow Green Cemetery was designed and opened in 1989, and now Meadow Green Memorial Park consists of over 50 acres of beautiful land offering ground burial and mausoleum entombment. In 2001, The Remembrance Center was opened as a gift gallery for families to select condolence gifts and keepsakes for all of life's occasions.
In 2010, Kara C. Groff, joined the firm and continued to expand the offerings by opening Groff Pet Loss Services which provides pet cremation options. Together Leon and Kara expanded the Sandusky Chapel in 2013 to include the Serenity Room and Cremation Center offering the most technologically advanced and comforting cremation facility in the community.  Then in 2014, The Legacy Center was opened as a rental facility to celebrate all of life's special occasions.

Civista was able to sit with Kara Groff to gain some insights on what it means to her to be a business owner in the community.
What and or who inspired you to become a business owner?
"My father, Leon J. Groff, is the person who inspired me to become a business owner. I am a third-generation funeral director, with my grandfather and both of my parents being funeral directors before me.  My father always inspired me to dream big, take risks, and do things to help others in the best way I know how. 
For him, it was serving his community through the funeral industry, and taking care of families in some of their most difficult moments.  He was continuously looking for new ways to better care for the people of his community and offer new or better services to meet their needs.  Losing him in 2020 was incredibly challenging and unexpected, but through the support of family and an incredible staff, we have started to move toward growing our businesses and continuing on Leon's legacy. 
With my father's support, my first business venture was at the young age of 20.  I am now working on my third business venture, Work Space, which is a co-working space and business center that is scheduled to debut later this year."
What has been your greatest challenge as a small business owner?
"One of the greatest challenges as a small business owner is being able to accomplish all that we want to accomplish.  My team is full of amazing people with incredible ideas and solutions, but we are often faced with limited time or human resources to accomplish all things to the standards in which we hold ourselves.  One of my current goals has been to expand my networking and partnerships in this post-covid environment.  As other small businesses are growing as well, I have been forming new professional relationships to help support one another and accomplish goals by sharing resources."
 What is it like working in Sandusky?
"Working in Sandusky is an amazing opportunity as a business owner.  We have such a diverse community, which is also encouraging and growing.  Sandusky residents are quite supportive of their small businesses, and small businesses are incredibly supportive of one another.  There are an increasing number of organizations available to collaborate with entrepreneurs as well, which I love to see.  In addition, we get to enjoy a tourist season which brings a whole new set of opportunities to impact the lives of families not necessarily from our area."
What are three tips you would share to help other entrepreneurs starting their own business?
"For someone looking to start their own business, I would tell them reach out and make connections!  Utilize the networks of other business owners that exist, and create professional relationships whenever you can. People will be willing to help and encourage you, if you simply ask!  I would also tell them not to be afraid to take risks.  Do your research and make sound business decisions, but also follow your intuition.  Sometimes by listening to your potential customers, you can provide a solution to their needs that others haven't even thought of.  And finally, look to the future.  Never stop evolving and improving your business or yourself because the community, industry and customer is always changing."
How did Civista helped your business grow?
"Civista Bank has been fundamental in our family business growth.  When we needed the financial backing to expand our business, upgrade our facilities, or create a new division, Civista's loan officers have been willing to hear our ideas and support our dreams.  From the bank tellers we interact with daily when making deposits, to the personal bankers, loan officers and executives, the staff at Civista is friendly and helpful.  They truly understand how to support small business and help us achieve our dreams."
For more information about Groff Funeral Homes and Crematory and their other services visit their website or follow them of social media.
Groff Funeral Homes & Crematory
Groff Funeral Homes & Crematory
Meadow Green Memorial Park
The Remembrance Center
The Legacy Center
Groff Pet Loss Services