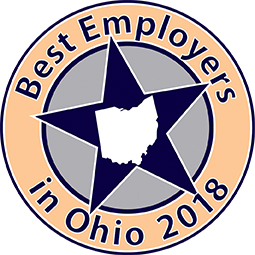 Sandusky, OH (May 29, 2018) - Civista Bank was recently named as one of the 2018 Best Employers in Ohio. This statewide survey and awards program is designed to identify, recognize and honor the best places of employment in Ohio, benefiting the state's economy, its workforce and businesses. The annual list of the Best Employers in Ohio was created by the Ohio Society for Human Resource Management (SHRM) State Council and Best Companies Group.  Civista was one of 33 companies named to The 2018 Best Employers in Ohio list. 
"This is the eighth consecutive year Civista Bank has been named a Best Employer in Ohio and our team credits this recognition to the genuine care and support Civista demonstrates for the professional and personal lives of its employees," said Veronica Doucette, Senior Vice President of Civista's Human Resources.   "From training and leadership development opportunities to wellness incentives, health club reimbursements and family picnics, Civista provides ongoing opportunities for career development, personal growth and family fun. Civista also supports the communities in which employees live and work both financially and by promoting community involvement and active leadership," added Doucette. 
"Our talented and dedicated employees are at the core of our company's mission to be the community's trusted financial advisor," said Dennis Shaffer, Civista Bank CEO and President.  "They embody our company values - teamwork, compassion and honesty - to create a positive and rewarding work environment."  We appreciate all they do to make Civista a great place to work and bank."
Companies from across the state entered the two-part survey process to determine the Best Employers in Ohio. The first part consisted of evaluating each nominated company's workplace policies, practices, philosophy, systems and demographics. This part of the process was worth approximately 25% of the total evaluation. The second part consisted of an employee survey to measure the employee experience. This part of the process was worth approximately 75% of the total evaluation. The combined scores determined the top companies and the final rankings. Best Companies Group managed the overall registration and survey process in Ohio and also analyzed the data and used their expertise to determine the final rankings. 
For more information on the Best Employers in Ohio program, visit www.BestEmployerOH.com