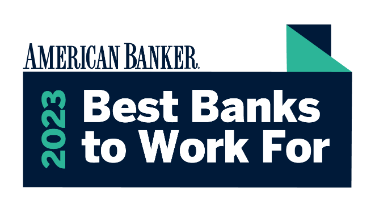 Sandusky, Ohio (November 20, 2023) – Civista Bank has been named one of the 2023 Best Banks to Work For. American Banker has partnered with Best Companies Group to identify banks that excel at creating positive and supportive workplaces for employees.
This year 90 banks earned a spot in the ranking of Best Banks to Work For, based on an anonymous employee survey and a thorough review of the benefits and perks offered. The full 2023 Best Banks to Work For list is featured at www.americanbanker.com.
"The banks recognized on this list are trying hard to create workplaces that employees want to join," said Chana R. Schoenberger, Editor-in-Chief of American Banker. "Especially during this moment when companies are experiencing a shift in how, where, and how much employees work, banks are paying attention to how they can best retain their people."
On the 2023 list, Civista Bank was ranked No. 73. It is the tenth time that Civista Bank has been recognized by the Best Banks to Work For program. The survey and awards program is designed to identify and honor banks with the best cultures for helping employees thrive.
"We are honored to be named one of 2023's Best Banks to Work For. We believe that a supportive and engaging work environment not only enhances the professional lives of our employees but also contributes to the overall success of the bank," said Dennis Shaffer, Civista Bank President and CEO. "This recognition reflects our commitment to ensuring that Civista remains both a great place to work, and a great place to bank."
For more information on the Best Banks to Work For program, visit www.BestBankstoWorkfor.com.
About Civista Bank
Founded in 1884, Civista Bank is the community banking subsidiary of Civista Bancshares, Inc., a financial services holding company with assets over $3.7 billion headquartered in Sandusky, Ohio.  Civista Bank provides full-service banking, commercial lending, mortgage, and wealth management services to individuals, businesses, governments, and non-profit entities.  Today, Civista operates 43 offices across Ohio, Southeastern Indiana, and Northern Kentucky. Civista Leasing & Finance, a division of Civista Bank offers commercial equipment leasing services for businesses nationwide. To learn more, visit civista.bank or follow us on Facebook @CivistaBank and LinkedIn at https://www.linkedin.com/company/civista-bank.
About American Banker
American Banker empowers banking professionals with unique analysis and insight into the ideas transforming their business and industry. Across its journalism, events, research, and benchmarking, it helps drive the way forward through the complexity of business innovation, retail and commercial disruption, technology, regulation and reform. With a banking community 850M strong, American Banker's content connects leaders online, in person and in print every day.
About Best Companies Group
Since 2004, Best Companies Group has specialized in identifying and recognizing great employers to work for. We are an independent research firm that ranks companies based on our established research methodology. Our surveys provide actionable, hard-to-obtain data that companies use to improve employee recruitment and retention.