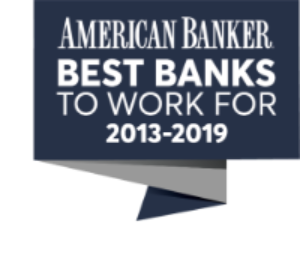 Sandusky, Ohio (August 29, 2019) –
Civista Bank has been named one of the Best Banks to Work For in 2019. "We are proud to receive this recognition for the seventh year in a row," said Dennis Shaffer, Civista Bank CEO and President. "Our mission at Civista is not only to improve the financial lives of our customers and shareholders, but also the lives of our employees. It is an honor to receive this award as recognition of the commitment we've made to our team," added Shaffer.
The Best Banks to Work For program, which was initiated in 2013 by American Banker and Best Companies Group, identifies, recognizes and honors U.S. banks for outstanding employee satisfaction. Full results of this year's program are available at
American Banker
and in the September issue of American Banker Magazine.

"One of the critical factors in a bank's success is how it treats its employees. This year's list honors those institutions which have gone above and beyond to invest in employees' personal and professional growth," said Rob Blackwell, editor in chief of American Banker.
Determining the Best Banks to Work For involves a two-step process. The first step involves an evaluation of participating companies' workplace policies, practices, and demographics. In the second step, employee surveys are conducted to directly assess the experiences and attitudes of individual employees with respect to their workplace. The combined scores determine the top banks and the final ranking. To see a full list of this year's winning banks,
click here
.