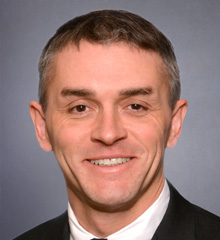 Sandusky, Ohio (January 24, 2020)
– Civista Bank has named Mark J. Sams as Senior Vice President, Regional Market Executive for the bank's Southeastern Indiana and Greater Cincinnati region. Sams is based at the bank's 92 Walnut Street, Lawrenceburg, Indiana branch. He succeeds former Market Executive, Mike M. McLaughlin, who recently retired after 36 years of service.

Sams joined Civista in 2014, after being recruited by current board members, E.G. McLaughlin and Bill Ritzman. He has over 20 years of community banking and commercial lending experience. He earned his bachelor's degree in business administration from the University of Illinois and is an alumni of the Graduate School of Banking in Madison, Wisconsin. Sams is a Board Member of the Civista Charitable Foundation, a Board Member and Treasurer of the Sacred Heart Boosters Club, as well as a Board Member and Treasurer of Dearborn County's economic development group, One Dearborn.

"Mark Sams is an effective leader who is dedicated to delivering exceptional customer service to our communities," said Civista Bank CEO and President, Dennis G. Shaffer. "He will continue to lead Civista's commercial lending team in the region, while working closely with regional sales leaders – Bridget Davidson, Assistant Vice President, Retail Market Leader; Jim Kittle, Senior Vice President, Mortgage Lending; Tom Palmer, Vice President, Financial Consultant; and Amanda Corsmeier, Community Relations Coordinator," added Shaffer.