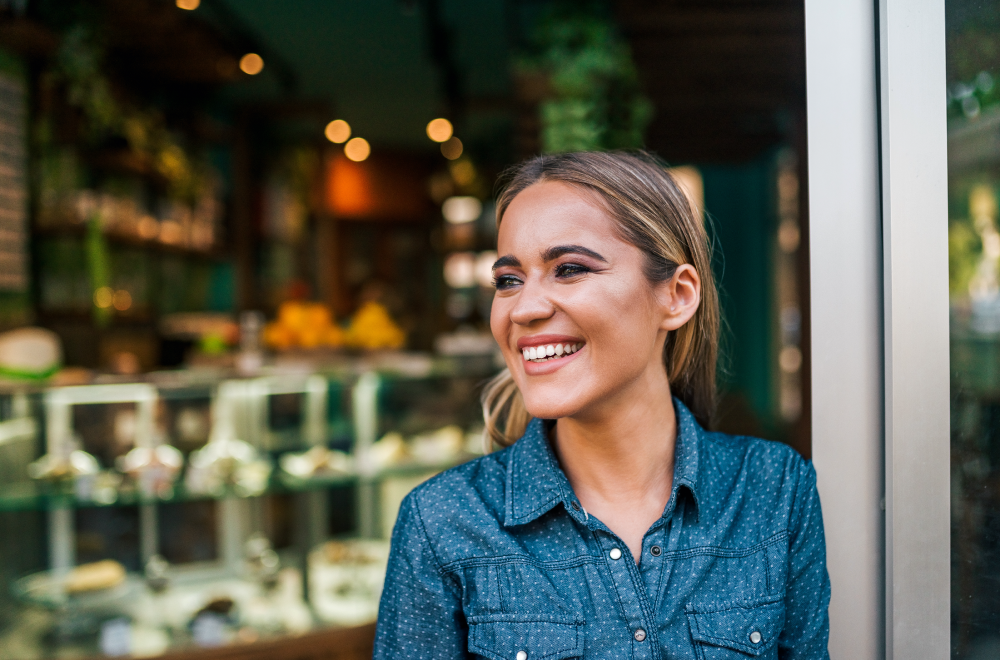 Financial independence is an important goal for women from all walks of life, but it can often feel out of reach. However, with the right strategies and attitude, anyone can take control of their finances and make progress toward achieving financial freedom.
Take the time to clearly define your financial goals — both short-term and long-term — with the ultimate goal of financial independence. Think about what that would look like for you. Paying off debt? Building an emergency savings fund? Being able to buy a home? Putting your child through college? Saving for retirement? Financial independence may look different for everyone, but by setting goals you'll start to form your roadmap to greater levels of security, stability, and freedom.
Here are some tips to help you get started and some advice from our experts.
Make a Budget
Developing a budget is the first step to becoming financially independent. Track your spending and stick to your budget as much as possible. If you're struggling, creating a budget can be a difficult task. However, it is an essential first step to taking control of your finances.
"When we make unreasonable goals with little or no information about how to get from point A to point Z, the propensity for failure is high. Small steps can lead to tremendous results. If you eat out three to five times a week, try only two times a week. Budgeting is a learned art; like everything we do in life, it takes practice."

Jo'el Jones, VP, CRA Officer
Reduce Spending
Prioritize your necessary expenses and make sure those are paid first. When possible, cut back on other discretionary purchases like eating out, entertainment, or shopping in order to save more money each month. Utilize government assistance or programs offered in your community, if you are in need, to make ends meet during difficult times.
"One of the most important things a woman can do for financial success is to understand your financial situation.  Live within your means and save for larger expenses.  Make sure you have a plan for the future."

Debbie Kellner, VP, Private Banker
"All those little monthly subscriptions can really add up. Review your accounts and unsubscribe from services you no longer use."

Terri Schmidt, Personal Banker at Plymouth Branch
Explore Debt Management Options
If you have debt, you're not alone — approximately 80% of Americans are currently in debt. Find your financial freedom by exploring strategies for paying down and managing your debt.
If getting out of debt seems impossible, you may benefit from credit counseling to help you get back on track. If you decide to work with a credit counseling agency, ensure they:
Are not-for-profit and offer free or affordable in-person counseling.
Have certified counselors who are trained in consumer credit and debt management.
Have no complaints filed against them (you can check your local consumer protection agency).
Learn more in Civista's Debt Management Learning Vault Course.
Look for Ways to Increase Your Income
Explore ways to increase your income, such as starting a side hustle, finding a higher-paying job, or an additional part-time job. Make use of the skills you already have to bring in extra funds. Some ideas include freelance writing, remote work, virtual assistant, pet care, or tutoring. 
"Know your worth and the value that you contribute to the organization where you work and invest your time (life) in! Do not be afraid to have those discussions with your manager in negotiating your role/position to obtain the salary YOU need (and deserve) to help YOU meet YOUR Financial Goals."

Linda Meyer, Branch Manager – Milan, IN Branch
"Never think it is just a man's world. Never be afraid of challenges, take them head on and grow yourself in an ever-changing world. NEVER say 'I Can't'! Always try and you may surprise yourself and others. Strive for your career goals and if family is a part of your future, allow yourself time for both."

Sheila Celani, Branch Manager – Liberty Center Branch
"Some of my most successful clients are business owners that have multiple income streams, from business income to investment property rental income and more.  It is important to take the time when planning to start a business or side hustle to understand what expenses will be incurred as well as the potential income.  Understand what the return on investment and profitability will look like."

Michelle Edwards, VP, Commercial Lender
Save Automatically
Consider setting up an automatic transfer from your checking account into your savings account on payday to ensure that you are consistently saving money each month. Try building an emergency savings fund first, about 3-6 months' worth of your expenses, then grow your savings for your other financial goals.
"Define your goals — write them down.  Know your cash flow and save with a growth mindset.  Remember that the future comes quickly, a financially independent woman looks ahead and puts money aside every month."

Rebeka Magee, Branch Manager – Water Street Branch
"One of the most common mistakes is not planning for hard times. I teach my children when they don't have a car payment, they should still make a "payment" to themselves in a separate savings accounts. Then if their car would need repairs, or if they would decide to get a new vehicle, they would have the funds they need."

Denise Leonard, Branch Operations Specialist – Berlin Heights
Build and Protect Your Credit
Building your credit score will allow you more opportunities and access to credit when it comes time for big purchases like buying a car or buying a home. Apply for credit in your name. This can be a loan or credit card — anything that gives you the opportunity to show you are a responsible borrower. If your score isn't quite good enough to get financing on your own, try applying for a secure credit card.
It's also important to protect your credit. Regularly review your credit report and monitor your score. If there are any discrepancies or mistakes, take the necessary steps to fix them and maintain a good credit standing. Learn more about improving your credit score.
"Freeze your credit score with Transunion, Equifax and Experian to prevent a fraudster from taking out credit in your name or someone to pull your credit without your password."

Jessica Steuk, SVP, Private Banking Manager
Start Investing Early
Start as early as you can when it comes to investing, as compounding interest will have more time to work its magic. Consider setting up retirement accounts such as 401(k)s or IRAs and start automating contributions from your paycheck. Learn more about investing with the Civista Learning Vault's Investor Education series.
"When investing, women need to consider that their lifespan is statistically longer and their investment strategy needs to adjust for this.  Sometimes women take time away from full-time work to take care of others (children, aging parents, significant others, etc.). Planning for this potential gap in income by investing more when able will help down the road."

Michelle Edwards, VP, Commercial Lender
"Understanding how and where your money is invested. Have your accounts reviewed at least annually to make sure you are investing the best way to meet your personal goals."

Tina Lynch, Branch Manager – Versailles Branch
"ALWAYS take advantage of company sponsored retirement plans and at a minimum, contribute whatever is needed to earn the full company match.  Missing out on the company match is like throwing away money you've earned."

Jessica Steuk, SVP, Private Banking Manager
Take Advantage of Tax Deductions
Take advantage of deductions such as childcare credits, student loan interest deductions, or any other tax deductions you may qualify for to reduce your taxable income each year. Consult your tax advisor.
Find Financial Education Resources
Knowledge is power, and learning to be financially responsible is key to achieving financial independence. Look for books, courses, workshops, and other resources that can help teach you about money management and investing.
Civista's Learning Vault is the perfect place to start. We have free, easy-to-follow, online courses to help you with all areas of your financial life.
"Education is the most important key to becoming financially independent.  Women must seek knowledge from many different sources, whether it be a financial professional, classes in money management, or a trusted friend or relative who is living by example."

Patti Rodgers, Branch Manager – Norwalk Seminary Street Branch
Seek out professional advice when needed
While it is important to educate yourself on financial matters, there are certain topics where seeking the opinion of a financial professional financial is recommended.  This can help provide peace of mind when tackling more complex areas like retirement planning or tax strategies. Working with a financial advisor can be an invaluable asset in helping you achieve your goals.
Talk with your local Civista banker if you have any financial questions. We have a whole team of specialized experts ready to help you.
"Trust your local banker for free financial guidance.  They understand when to help you, and when to refer you!"

Kendra Eifert, Branch Manager – Springboro Pike Branch
"Don't be afraid to ask questions and advocate for yourself.  It might be hard to get started and you may make mistakes along the way, but the journey is worth it!"

Patti Rodgers, Branch Manager – Norwalk-Seminary Street
By following these tips, women everywhere can take control of their finances and build a solid foundation toward achieving financial independence. With the right knowledge, resources, and dedication women can create the secure financial future they desire.