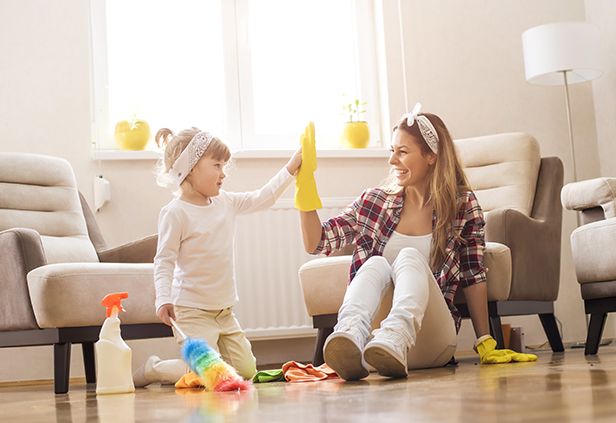 Now is a great time to think about tackling a project around the house, de-cluttering your living space, and other spring cleaning projects; including tidying up your finances.
These four strategies can help you dust off your finances and maintain a strong foundation for the rest of the year.
Check in on Your Credit
Your credit score can have one of the biggest impacts on your financial life - so don't let it collect dust! Did you know you can check your credit score for free with each of the three credit bureaus? Staggering your requests every four months allows you to keep a regular eye on your credit report. Once you know your score, you can set goals to continue to improve your responsible credit habits. Learn how to keep your credit score healthy with a quick lesson on Credit Scores & Reports by visiting the Civista Learning Vault.

Pay Your Bills Automatically
In today's digital age, there are various mobile digital payment options available to help you to get ahead of your bills. Set up digital banking and pay bills, friends and family with Civista's Bill Pay Plus to save yourself the hassle of mailing checks, and protect against the costs of missing a deadline.
Click here to learn more about Bill Pay Plus.

Protect Your Accounts
With the prevalence of digital transactions, it's important to protect yourself from consumer fraud and identity theft. In fact, nearly 3 million consumers reported fraud in 2017 alone. Regularly checking your credit score for errors and unauthorized transactions is one simple strategy to protect your identity. Make it a priority to refresh the tactics you use to keep your identity safe this spring with the Identity Protection module on the Civista Learning Vault.

Save for a Rainy Day
Rainy day funds protect against more than just the weather. An emergency fund of 3-6 months of take home pay is critical for unexpected moments. If you have an emergency fund to tap into, great job! If you are among the 40% of Americans who would find an unexpected $400 expense challenging to pay, know that you are not alone, and there is always time to build your savings.
Take a hard look at non-essential spending. Eliminating even small expenses, especially monthly membership fees, which can quickly add up over time. After you have cancelled or paused any non-essential recurring payments, create a budget tracker to identify where and how you spend your money. Once you have that breakdown, you can more accurately set goals around what you need to start, stop, and continue doing in order to build your emergency savings.
Learn new savings habits to help yourself be better prepared by reviewing the Civista Learning Vault's Building Emergency Saving Module.

No matter where you start your financial spring cleaning, incorporating these tips and tactics into your routine will give your personal finances a fresh start.

Check out the Civista Learning Vault for our full suite of free educational online content.

Civista Learning Vault Featured Modules:

Why establishing and maintaining strong credit matters so much for your financial health.
Learn how to protect your identity and personal information.
Learn why and how to save for emergency expenses.