Effective cash flow management
It's one of the most critical functions for business success.  That's why Civista Bank provides a wealth of tools to help better utilize your resources and increase overall business efficiency. 
What's most important right now?   Expediting payments into your accounts?  Paying down your line of credit?  Consolidating funds from multiple accounts into one with more ease? Our team is here to help you put the right solutions in place for your business.  Let's talk.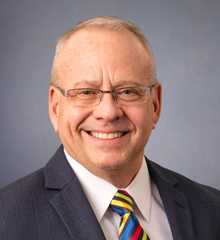 Senior Vice President,
Business Development

O: 800.604.9368       C:  419.901.0852

 Email Lee Jordan >>
Understanding your unique business needs
With almost 40 years of banking experience, I am committed to helping my customers reach their business and personal goals.  Working with our Civista branch leaders and commercial lenders across the bank's footprint, I have helped hundreds of businesses with cash management solutions and understand the unique needs of a many industries.  With that knowledge, our team is able to bring best practices to our clients and look forward to doing the same for you.
Learn more about our Cash Management Solutions:
Toggle accordion content
Automated Clearing House (ACH) Services
Save time and money by offering employee direct deposit, submitting electronic tax payments,  expediting electronic vendor payments and making external bank transfers.
Pay down your line of credit with excess funds in your checking account by connecting your commercial line of credit to your checking account for automatic fund transfers. If your checking account balance falls below your target balance, funds will sweep back from the line of credit to bring the balance up to your target.
Get money into your accounts faster by depositing checks electronically with our secure check processing system.  Scan checks from the convenience of your office, reducing time wasted on trips to the bank.
Toggle accordion content
Zero Balance Account (ZBA) Sweep
Consolidate multiple checking account balances into one.  This service gives you the flexibility to pool funds into one account while maintaining your individual accounts for unique tracking purposes.  As checks are presented funds are automatically transferred to or from the primary account. Ideal for multiple store locations or separating payroll and other expense accounts.