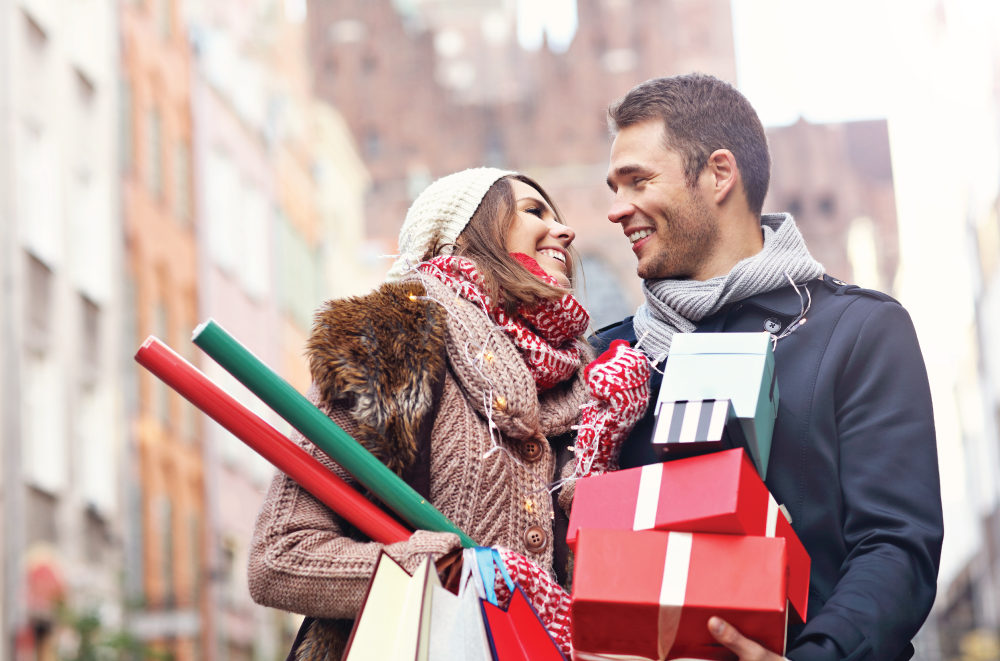 The holidays are a time for family, friends, and spending. However, with inflation on the rise, many shoppers are concerned about how they will afford to celebrate during this holiday season. Whether you've already gotten a start on your holiday list this year or are holding out for some last minute deals, here are 10 little changes that will make a big difference for your holiday shopping and your bank account.
1. Create a Holiday Spending Budget
It's easy to overspend during the holidays, especially if you don't come up with a game plan before you start shopping. Avoid falling into the trap of flashy holiday sales by creating an overall budget for your holiday spending. This will help keep you on track even when you're tempted to add more items to your cart.
2. Make Your List
Make a list of the people in your life you want to buy for this holiday season. Keeping a mental note of everyone on your list can be challenging. Write your list down so you can clearly track your gift buying. Once you have your list, set a budget for each person. This can help you from overspending on any one person.
3. Find the Perfect Gift
Deciding what gifts you'd like to buy can help you from blowing your budget with impulse buys. When trying to come up with the perfect gift, keep in mind the person you're buying for and don't get distracted by sales. Remember even the simplest of gifts can hold a lot of meaning.

Don't forget to shop around. Compare prices at different stores before making any purchase. Be sure to check online retailers as well as brick-and-mortar stores. Some retailers may even price match your purchase if you find it somewhere else at a lower cost.

For help finding the perfect gift, visit our Gift Ideas for the Holidays blog post.
4. Add Your Civista Bank Debit Mastercard° to Your Digital Wallet

Did you know that each time you pay with your digital wallet, a unique transaction number is used to keep your card information private? Using this fast and secure payment method can make your holiday shopping a breeze. Keep from fumbling with your card or cash at the checkout with this contactless option. And don't forget digital wallets aren't just for in-store. Many merchants offer customers the option to use Apple Pay® or Google Pay™ for online purchases.
Learn more about Digital Wallets.
5. Enroll Your Spending Accounts and Credit Cards in Civista's Financial Tools
Within your Digital Banking, you have access to Civista's Financial Tools. This feature allows you to manage your money and other assets all from a single login for a better understanding of your finances. Even link accounts and credit cards at other financial institutions.

Add the accounts you will be using for your holiday spending to your Civista Digital Banking for a one stop place to easily monitor your transactions. You can keep your eye out for any fraudulent or unauthorized transactions as well as make sure you're sticking to your overall budget.

Learn more about Financial Tools.
6. Set up Custom Account Alerts
Within your Civista Digital Banking you can set up account alerts by selecting the 'Settings' menu option and 'Alerts'. Set up alerts to know when transactions hit your account or if your balance drops below a certain amount so you don't run into any issues at the checkout.
7. Download the Civista Mobile Banking App
Keep your accounts at your fingertips throughout the holiday season with Civista's mobile banking app. Access and monitor your accounts easily from your smartphone, tablet or even your Apple Watch.  You can track your spending and make real-time transfers on the go.
8. Manage Your Debit Card
From your Civista Digital Banking's, 'Manage Cards' menu you can access the 'Debit Card Control' feature.
Enable/Disable Card
If while shopping you can't find your debit card, simply go to your Digital Banking and disable the card. You can have peace of mind knowing, that while disabled, your card cannot be used for unauthorized purchases. Once you're able to locate the card – enable it to begin using it again right away. If you're not able to find your card, you can report the card lost from the same menu option.
Don't let a lost debit card ruin your holiday shopping. Many of Civista's branches can instantly issue you a new debit card. Contact your local branch to learn more about this service.
Increase Your Point of Sale Limit
If you plan on purchasing some big ticket items or want to knock all of your shopping out in one trip you may need to increase your daily point of sale, or purchasing limit. You can send a temporary limit increase request within Digital Banking's Debit Card Control feature. Make sure to submit your request prior to shopping – increase requests can take up to four business hours to be reviewed and depend on your account balances and activity.
Tell Us About Your Travel Plans
To make sure you have uninterrupted service be sure to notify us of any upcoming travel plans you may have. You can do this easily through the Debit Card Control feature or by contacting your local branch.
9. Sign up for Civista FraudEYE Text Alerts
Our 24/7 monitoring programs continually review your account for potential fraudulent activity. If we detect suspicious debit card activity, Civista FraudEYE can alert you by email, phone or text.  Text 'CIVISTA' to '47334' to receive alerts via text message.
10. Save Money This Season
If you're struggling to make ends meet during the holidays, there are a few things you can do to cut costs. One option is to celebrate earlier in the season when prices are lower. Another is to wait until after the holidays when prices drop again. You could also consider scaling back your celebrations or opting for cheaper alternatives. Whatever you decide, remember that saving money is more important than anything else during this time of year!
 Plan Ahead for Next Year
Now is the best time to start planning for next year. Civista offers a Holiday Savings Club Account to make it even easier to put money back all year long. Open your club account with just $10. Set up an automatic transfer from your checking or savings account to easily grow your balance. Your holiday funds are ready for you in mid-October, just in time for the holiday season.
Learn more about our Holiday Savings Club Account. 
Despite inflation being on the rise, there are still ways that you can enjoy the holiday season without breaking the bank! By following these tips, you'll be sure to stay within your budget and have a happy holiday season!
For more holiday spending tips, check out Civista's Holiday Spending Guide.
*External accounts eligible to be linked within Civista's digital banking are dependent on servicer's ability and permissions.
Apple Pay is a trademark of Apple Inc.; Google Pay is a trademark of Google Inc,; Samsung Pay is a registered trademark of Samsung Electronics Co., Ltd.