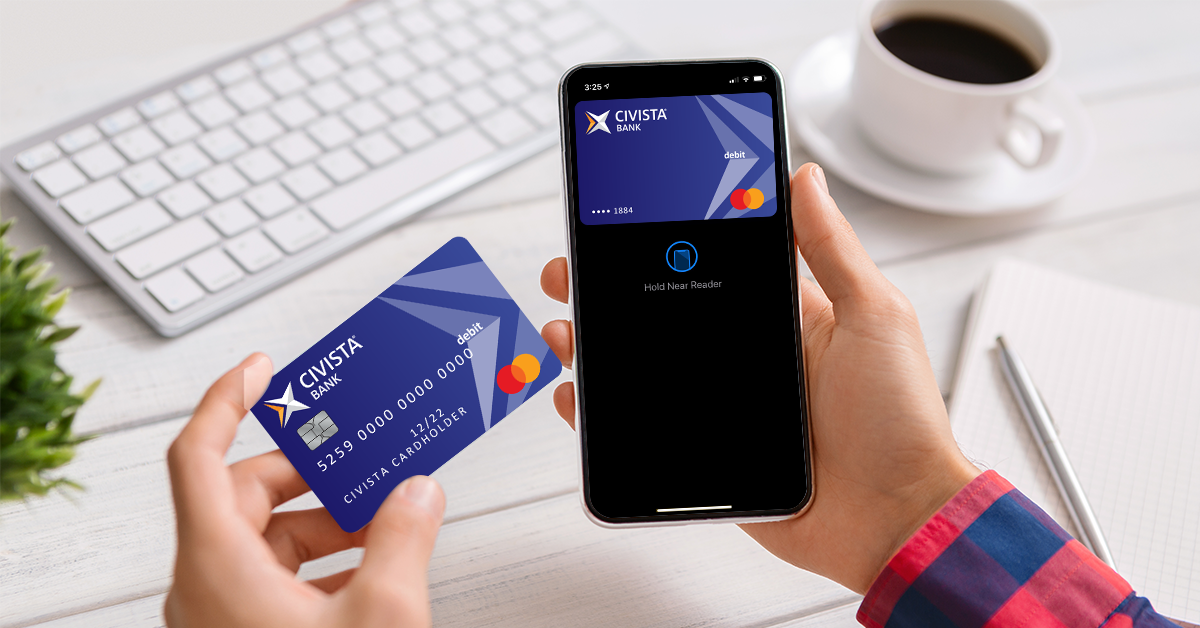 Summer is just around the corner and as local businesses and restaurants begin reopening, Civista is offering customers a safer way to pay. A Civista Debit Mastercard® offers a healthier alternative to cash and provides customers with the option of contactless payments with popular digital wallets, like Apply Pay®, Google PayTM and Samsung Pay.
Civista customers can add their debit card to their digital wallet by opening the wallet app on their mobile device. Following the app's prompts, customers will be asked to take a photo of their card or manually input the card data; making sure to carefully review the information. Once added to their digital wallet, customers can make digital payments wherever accepted by holding their mobile device near the merchant's contactless reader.
In addition to helping customers avoid physically touching surfaces, digital payments provide added security. Along with the benefits of Mastercard® Zero Liability1 and Civista FraudEYE monitoring, digital payments create a unique virtual number for each transaction; keeping a customer's card details private and secure.
Customers can contact their local branch for more information about Civista's Debit Mastercards® and checking account options. For more information about digital wallets visit civista.bank/digital-wallet.
1Certain restrictions apply.  See www.mastercard.us/zero-liability for details.
Google Pay is a trademark of Google LLC. Android, Google Pay, and the Google Logo are trademarks of Google LLC
Apple, the Apple logo, Apple Watch, iPad, iPhone, Mac, Safari, and TouchID are trademarks of Apple Inc., registered in the U.S. and other countries.
Samsung, Samsung Pay, Galaxy s7 and Samsung Knox are trademarks or registered trademarks of Samsung electronics co., Ltd. Samsung Pay is available on select Samsung devices.