Digital Banking – Easy, Secure and Healthy for You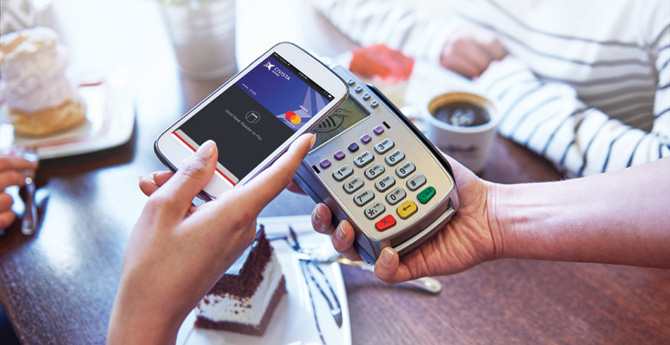 In a digitally connected world, most everything is at our fingertips — including how we bank. Civista Bank understands having quick and easy access to our money is essential to our daily lives and offers customers the tools to securely access their accounts 24/7 while practicing healthy financial habits.


The percentage of Americans that carry cash has continued to fall over the past decade and it's no wonder. Cash can be limiting and inconvenient, as well as known to be home to viruses and bacteria living on its surface. Civista's Debit Mastercard® offers a healthier and more secure alternative for in-person transactions at the check-out, while improving global usability and digital purchases. With the added security of chip technology, Civista's Debit Mastercards® contain encrypted information that makes it extremely difficult to copy or counterfeit.
Prefer contactless mobile payments? Civista Bank's Debit Mastercards® are also compatible with Apply Pay®, Google Pay™ and Samsung Pay digital wallet apps; making secure checkouts even easier. These mobile payments offer the same Zero Liability protection as contact transactions - meaning that in the event that your card is used to make unauthorized purchases—whether made in a store, by phone, or online—you won't be held liable.1


Mobile and Online Features
Civista Bank's digital banking tools include mobile and online banking access. Customers can view and search transactions as well as transfer funds between accounts. Other convenient features include:
Bill Pay Plus — This feature allows customers to pay monthly bills – from their utilities to their department store credit card – all from the convenience of the mobile app or online.
Pay a Person — Customers may also make payments to people with Civista's Pay a Person option. Personal payees can be set up to receive money anywhere in the U.S. with just an email address.
Bank-to-Bank - Bank to Bank (B2B) Transfer allows you to move money between your personal checking or savings accounts here, at Civista, and accounts you may have at other U.S. financial institutions. You can easily manage money between accounts with both inbound and outbound transfer capability.2


Additional Civista Bank Mobile App features
Mobile Deposit — Customers are able to deposit checks directly to their personal checking or savings accounts right from their mobile device 24/7, saving a trip to the bank.
Debit card controls – instantly suspend or activate your card for added security


Healthy Financial Habits
When you choose digital banking tools, you have the convenience of self-serve features, plus the ability to monitor your account balances and transactions daily with ease, helping to detect fraud and understand your financial picture at a glance. 
Providing customers with the convenient and secure digital tools they need to remain connected is a priority for Civista. Customers wanting to enroll in Digital Banking can enroll here. For more information about the products and services Civista offers visit www.civista.bank.
1 Certain restrictions apply. See www.mastercard.us/zero-liability for details.
2 Bank to Bank enrollment is offered at the bank's discretion.  Certain restrictions may apply.
Google Pay is a trademark of Google LLC. Android, Google Pay, and the Google Logo are trademarks of Google LLC
Apple, the Apple logo, Apple Watch, iPad, iPhone, Mac, Safari, and TouchID are trademarks of Apple Inc., registered in the U.S. and other countries.
Samsung, Samsung Pay, Galaxy s7 and Samsung knox are trademarks or registered trademarks of Samsung electronics co., Ltd. Samsung Pay is available on select Samsung devices.
Standard wireless carrier charges may apply.