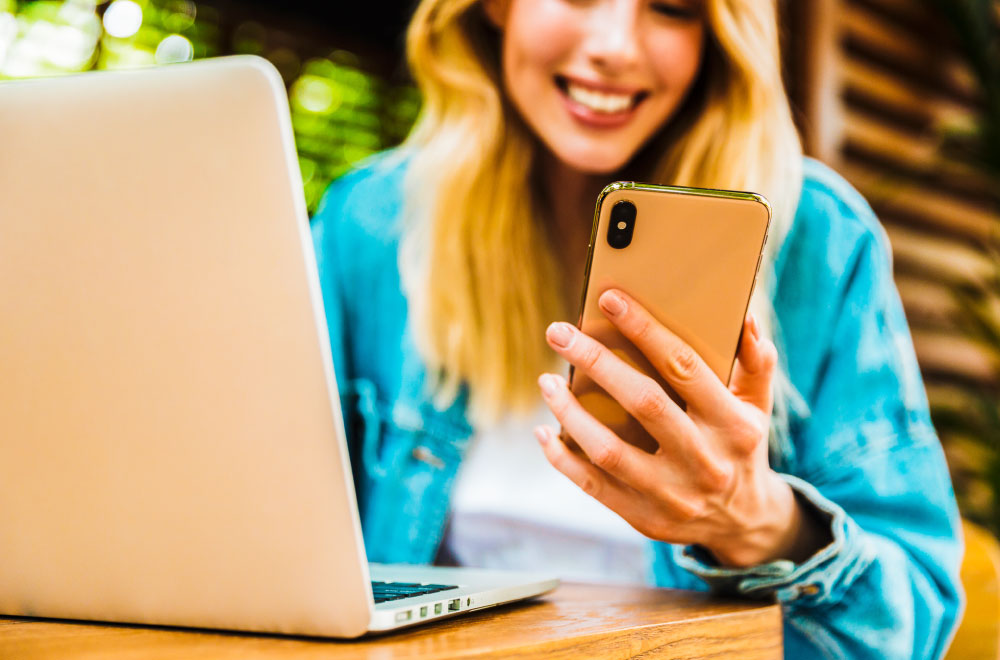 Gone are the days when banking meant waiting in long lines and relying on others to access your money. Civista Bank is here to make managing your finances easier with self-service banking options that offer customers secure, 24/7 account access. With our convenient tools, you can take control of your finances without ever having to visit a branch.
Point-of-Sale Payment Options
Your Civista Debit Mastercard®
The percentage of Americans that carry cash has continued to fall over the past decade and it's no wonder. Cash can be limiting, inconvenient, and susceptible to theft and loss. Civista's Debit Mastercard® offers a more secure alternative for in-person transactions at the check-out while improving global usability and digital purchases. With the added security of chip technology, Civista's Debit Mastercards® contains encrypted information that makes it extremely difficult to copy or counterfeit. Your Civista Debit Mastercard also gives you free access to your funds at any of Civista's ATMs.
Learn more about the benefits of your Civista Debit Mastercard. For even more control and convenience check out the debit card controls found within your Civista Digital Banking — freeze your card, order a new card, request temporary limit increases, and more!
Digital Wallet
Prefer contactless mobile payments? Civista Debit Mastercards® are also compatible with Apple Pay®, Google Pay™, and Samsung Pay digital wallet apps; making secure checkouts even more effortless. These mobile payments help keep your payment details private while offering the same Zero Liability protection as contact transactions – meaning that in the event that your card is used to make unauthorized purchases — whether made in a store, by phone, or online — you won't be held liable.1
Learn more about the benefits of contactless payments.
Digital Banking Payment Options
For more payment flexibility, Civista Digital Banking offers multiple ways for you to manage your payments:
Transfers
With digital banking transfers, you can move money securely between your accounts. Setting up recurring transfers is also easy.
External Funds Transfers
External transfers allow you to move money between your Civista personal checking or savings accounts and accounts you may have at other U.S. financial institutions. You can easily manage money between accounts with both inbound and outbound transfer capabilities.
Civista Users
This user-to-user tool allows you to set up a single transfer or recurring transfers to another Civista Digital Banking user.  Great for family member transfers like students requesting some extra cash!
Pay Bills & People
Under the Pay menu in your digital banking, you'll find the Pay Bills & People feature. This menu option will take you to Civista's Bill Pay Plus, where you can pay monthly bills – from your utilities to your department store credit card.
You can also make payments to people with Civista's Pay a Person option. Personal payees can be set up to receive money anywhere in the U.S. with just an email address.
CardSwap
Civista CardSwap can be found under the Manage Cards menu in your Civista Digital Banking. With this tool, you can streamline your Netflix, Amazon, Venmo, and other online accounts*. Manage your preferred payment card for your stream accounts and other subscriptions in a single place— Even assign multiple cards as preferred payments including non-Civista debit or credit cards.
Learn more about Civista CardSwap
.
Mobile Deposit
Deposit checks directly to their personal checking or savings accounts right from your mobile devices 24/7, saving a trip to the bank.
Account Monitoring
Civista has 24/7 monitoring programs that continually review your accounts for potentially fraudulent activity. However, there are additional self-service tools available to give you peace of mind and account monitoring capabilities.
Account Alerts
You have the ability to activate an array of security alerts within your digital banking to monitor and notify you about activity on your account. You can also customize alerts so you have complete control of your accounts.
eStatements
Enrolling in eStatements gives you the ability to review your statements and notices as soon as they are available — No more waiting for the mail or stolen statements.
Learn more about eStatements
.
Financial Tools
Your digital banking's financial tools allow you to categorize your spending and link your accounts at other financial institutions to seamlessly track transactions. This feature enables you to have a comprehensive overview of your financial situation.
Civista prioritizes convenience and security by offering a wide array of features through digital and self-service banking options. These modern solutions provide you with tools from digital wallets to account alerts, making managing your finances a hassle-free experience. We understand the importance of safeguarding your money, which is why we ensure that our cutting-edge banking solutions remain up-to-date with the latest security measures.