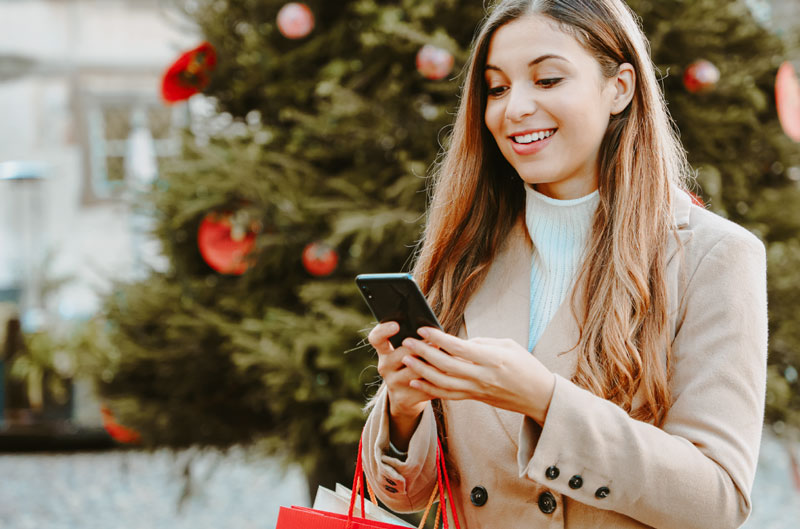 With the holiday season comes an uptick in shopping opportunities. This year, you'll find endless ways to spend your money. From Black Friday deals to Cyber Monday savings and everything in between, there are plenty of ways to save on gifts for friends, family members, and even your secret Santa at work.
It's easy to get caught up in the season of giving. Scammers know that people are looking for deals and will do anything they can to take advantage of shoppers. Check out these five tips for avoiding holiday scams this year as you shop and have a happy, stress-free holiday season.
1. Don't click on unknown links

You may be tempted to click on links in emails promising you'll get a cut-rate price for the perfect gift on your list. Be aware that scammers will try to trick you by sending you to fake websites that look identical to your favorite retailers'. At the very least, these scammers will try to fool you into giving out your personal information. At worst, you could end up downloading malware to your computer and putting your entire system at risk.
Instead, when you're shopping online and you see a link to a product, hover over the link. The linked address should appear. Make sure there are no misspellings, and you recognize the website before trusting a link.
2. Watch out for deals that sound too good to be true

If a deal seems "too good to be true," chances are it is. Be careful when buying products from websites you've never heard of before or third-party sellers. Scammers may try to lure you with deals to collect your payment and never deliver the product. Pay attention to product descriptions and reviews to make sure you're not getting tricked. Research the seller or website before providing your payment information.
Did You Know? You can lookup reported scams by the website, business name and other criteria with The Better Business Bureau's Scam Tracker.
3. Use a card with purchase protection
Use your Civista Debit Mastercard® with confidence knowing you're automatically protected. Your card comes with Mastercard® Zero Liability for fraudulent charges. That means you only pay for purchases you have authorized on your card. You won't be held liable if the card or card number is used for purchases without permission.¹
Your card is also monitored by Civista FraudEYE - our 24/7 program alerts you by email, phone, or text if we detect suspicious debit card activity. Enrolling is easy. Text 'CIVISTA' to '47334' to opt-in for debit card fraud text alerts.
4. Use your device's digital wallet for secure payments

Along with the benefits of Mastercard® Zero Liability and Civista FraudEYE monitoring, digital payments create a unique virtual number for each transaction - keeping your card details private and secure.
Digital wallets aren't just for in-store purchases. Many merchants offer customers the option to use Apple Pay® or Google Pay™ at the online checkout or within their apps.
Use your Civista Debit Mastercard® for contactless payments in three easy steps.
Open the wallet app on your device.
Following the app's prompts, you will be asked to take a photo of your card or manually input the card data.
Once added to your digital wallet – make digital payments wherever accepted by holding your mobile device near the merchant's contactless reader.
5. Monitor your account activity and statements
Monitor your accounts for unauthorized charges within your Civista Digital Banking. Even add accounts at other financial institutions for a single location to track all your holiday spending2.
Review your statements for fraudulent activity and report any unauthorized transactions immediately. Up to 18 months of your statements can be viewed by navigating to the eStatements & Notices tab. Enroll in eStatements to reduce your risk of identity theft and fraud while getting your statements faster than traditional mail – especially during the holiday season.
You can also enroll in Civista's account alerts for easy monitoring. Be notified when your balance gets too low or when a debit transaction over a certain amount is made on your account.
The holidays are a busy time, and it can be easy to get wrapped up in the excitement of it all and lose track of your spending. If you're not careful, you could fall victim to scammers who will do anything they can to steal your money and identity. Don't click on unknown links, watch out for deals that sound too good to be true, and monitor your accounts. With these tips you can enjoy the season without falling victim to a holiday scam.
1 Certain restrictions apply. See www.mastercard.us/zero-liability(Opens in a new Window) for details.
2 External accounts eligible to be linked within Civista's digital banking are dependent on servicer's ability and permissions.